Conducting A Pre-Purchase Inspection On A Used Car | Mission, TX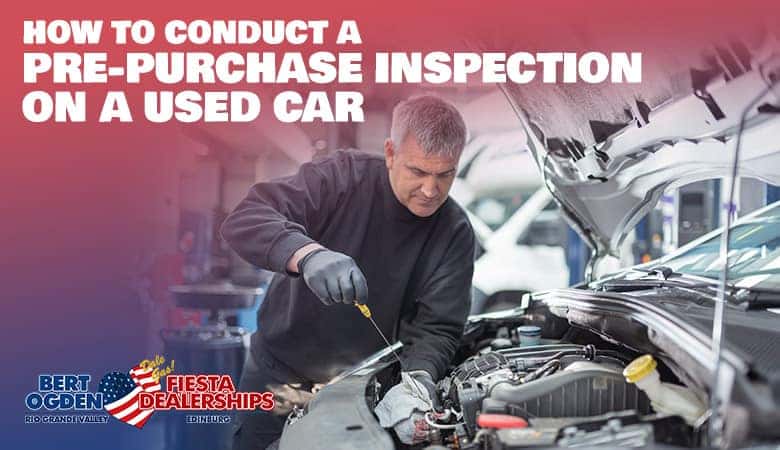 Are you in the market for a high-quality used car, truck, or SUV? There are plenty of good options to choose from, but you have to do a thorough job of examining a vehicle before purchasing to help ensure you don't wind up with a lemon (industry term for a used car with lots of problems, passed off as being in better shape than it is).
An easy way to help ensure you are getting a high quality used automobile is to shop only with a reputable dealer, like Bert Ogden Mission Auto Outlet in Mission, Texas. We have a reputation in the community for transparent sales, fair prices, and quality cars.
Regardless of where you buy, though, you should always review the vehicle history report, take it to a trusted mechanic for an inspection, and go on a test drive. But even on your own, you can conduct a pre-purchase inspection.
Here's how:
Look Under The Hood
The engine and transmission are crucial vehicle components — and among the most expensive to repair. If a car shows signs of engine or transmission trouble, we recommend passing on it.
Here's how to inspect the engine and transmission:
Try opening the hood. Does it open and close easily?
How does the engine look? Are there signs that it's not well cared for? Is there dirt or oil grime? Are there cracks in the belts?
You should also check the fluid levels (and look under the car to make sure it isn't leaking).
The engine and transmission aren't all that's under the hood. You can also look at the battery to see its condition. Batteries are much cheaper to replace, but it's still good to know how soon you might be needing to spend $100 to $200 on a replacement.
You should also start the car and listen to the engine. If there are any unusual or unexpected sounds, that's typically a sign to pass.
Inspect The Exterior
You can tell a lot about how someone has taken care of a car just by looking at the exterior. Does it have chipped paint, scratches, or dings? Is it need of a good wash? Are there rust spots or signs that the body has been previously repaired from an accident the owner is trying to cover up?
Check out the tires. Are the treads worn thin? If so, the tires will need to be replaced soon, and that's typically a $500 investment.
While reviewing the exterior, test all the lights, mirrors, windows, and doors to ensure they operate as expected.
Take A Look Inside
Try out all of the seats to check that they are comfortable. Most important is the driver's seat. Is it something you'd be comfortable sitting in?
Give the interior a strong sniff. Does it smell like smoke? Are you okay if the previous owner smoked in the car? What about mold? Moldy smells often signify some kind of water damage. If you smell mold and there's no water damage reported on the vehicle history report, be cautious.
How are the seats? Are they well maintained, or are there rips, burns, or tears? What about the dashboard and steering wheel? Are they clean?
Take this time to test in-vehicle technologies as well. Is there an infotainment system? If so, are you able to pair your phone? Do the speakers all work?
Try out power windows, locks, and seats if applicable. Are they all working properly? What about safety technologies, like a rearview camera or blind spot monitor?
If there are any technologies that should be working but aren't, ask the seller to explain.
Get a closer look at the extensive inventory of high-quality used vehicles at Bert Ogden Mission Auto Outlet in Mission, Texas.
---