Light-Duty Vs Heavy-Duty Trucks | Mission, TX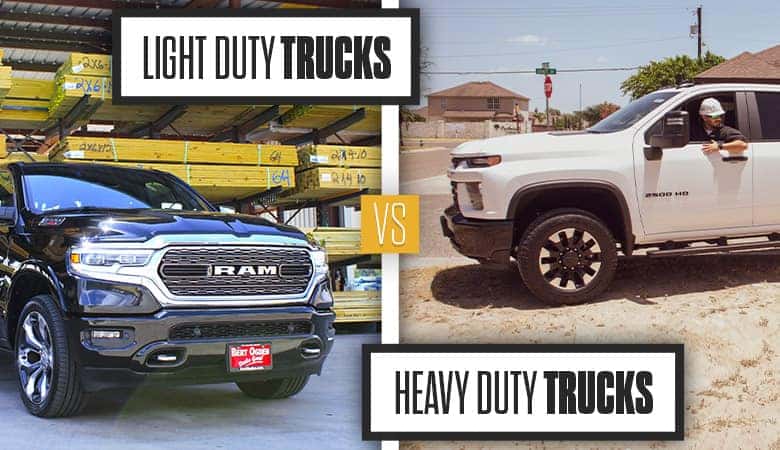 More than any other vehicle, pickup trucks tend to last the longest — decades upon decades even. That makes them a popular candidate for used car shoppers at Bert Ogden Mission Auto Outlet in Mission, Texas.
If you are thinking about a used truck for your next vehicle but aren't sure which truck is right for you, we find it is best to start with deciding between light-duty trucks (like the Chevrolet Silverado 1500, Ram 1500, Toyota Tundra, Nissan TITAN or Ford F-150) and heavy-duty trucks (like the Ram 2500 and 3500, Chevrolet Silverado 2500 HD and 3500 HD, or the F-250 and F-350 Super Duty). Once you have a grasp for the type of truck that works for you, you will have a narrower field of options to compare against one another.
What is a light-duty pickup truck?
Most truck drivers opt for a light-duty pickup truck. They are by far the most common and fulfill the most needs. These trucks are larger than midsize trucks, like the Chevrolet Colorado or the Toyota Tacoma, but are still practical for everyday driving. (Some of the massive heavy-duty trucks are difficult to drive in the city and have poor fuel economy, in comparison.)
Nowadays, light-duty pickup trucks can earn up to nearly 30 miles per gallon, and if you opt for an extended cab, you can fit an entire family inside a truck just as you would a small to midsize SUV. You get the convenience of a family SUV with the added bonus of a pickup bed. Pickup beds nowadays are increasingly easy to access with new "step" innovations, and they are more spacious and more durable than ever before.
Performance of light-duty pickup trucks is exceptional. Depending on the model and engine, expect anywhere from 200 to nearly 500 horsepower. Though it varies from truck to truck, you can expect to tow up to 13,000-ish pounds with payload capacities reaching 3,000 pounds when the truck is properly equipped.
What is a heavy-duty pickup truck?
If you read about the light-duty pickup truck's typical performance and feel like it won't meet your needs, that probably means you need a heavy-duty pickup truck. These trucks aren't meant to be the average family vehicle. They are massive and thus difficult to maneuver in tight city driving; they also require a lot more fuel. But for those flaws, they offer incredible towing power.
Whether you need a heavy hauler for a jobsite (as a farmer, rancher, construction worker, contractor, etc.) or just to tow your favorite boat or RV down to the Gulf area or up to Big Bend, heavy-duty trucks deliver. Depending on the size and muscle, you may be able to tow up to 35,000+ pounds with your heavy-duty pickup truck when it is properly equipped.
Shopping for a used truck
Now that you know what kind of truck (light-duty truck vs. heavy-duty truck) fulfills your needs, check out our tips for buying a used truck:
Look for signs of body rust. Visible rust in an older truck is expected, but a lot of visible rust is a sure sign that the truck was not well taken care of. Pass on any trucks with a lot of rust.
Watch out for high-mile trucks. When buying used, you have the luxury of reading reviews and determining when a specific truck, on average, needs a new engine, transmission, etc. If a specific truck needs a new engine roughly every 150,000 miles and you're looking at a truck with its original engine at 145,000 miles, understand that you might soon have to buy a new engine.
Consider towing capacity. If you already own a boat or RV of a specific weight, make sure the truck you are considering is rated to haul that weight.
Get a closer look at the truck lineup at Bert Ogden Mission Auto Outlet in Mission, Texas.
---