Necessary Features For One-Car Families | Mission, TX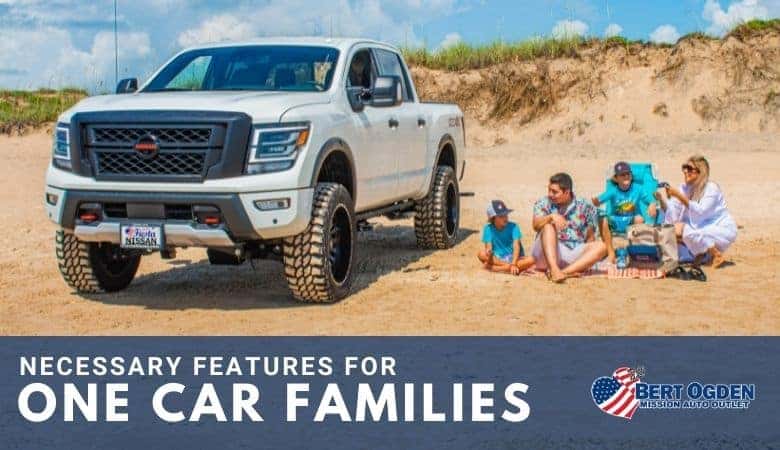 Being a single-car family has great perks including less money on car payments, insurance, service, and fuel. If you are considering becoming a one-car family, you will want to make sure you find a used vehicle at Bert Ogden Mission Auto Outlet in Mission, Texas, that has the right features for all potential drivers.
Not sure what features are necessary for one-car families? Here are our top recommendations:
Memory settings
Search for a pre-owned or certified pre-owned vehicle that offers memory settings. At the very least, you will want a system that stores your preferred seating settings and mirror placements. Fancier cars sometimes store radio presets, climate control settings, and more for multiple drivers.
Dual-zone automatic climate control (or better)
Because you will be traveling together more often as a one-car family, you will want to ensure everyone can set their own temperature settings. At minimum, look for a vehicle with dual-zone climate control. If you regularly travel with your pets or kids, it's worth investing in a vehicle that offers tri- or multi-zone climate control systems.
Connectivity technology
Bluetooth® technology is wonderful for navigation, audio streaming, and phone calls, but it can be frustrating if a vehicle only allows one phone to be stored in the system at once. Look for an infotainment system that allows multiple phones to be saved for easy pairing. In addition, find a vehicle that has plenty of charging ports for your smartphones or compatible devices.
An app
Newer cars often have apps where you can go in and check on things like service reminders. With two people responsible for a vehicle, it can be easy to become complacent and assume the other will handle all service appointments. An app can keep you both honest and on track with maintenance milestones.
At Bert Ogden Mission Auto Outlet, you'll discover a large inventory of high quality pre-owned and certified pre-owned models. Stop by for a test drive!
---