Road Trip Guide | Mission, TX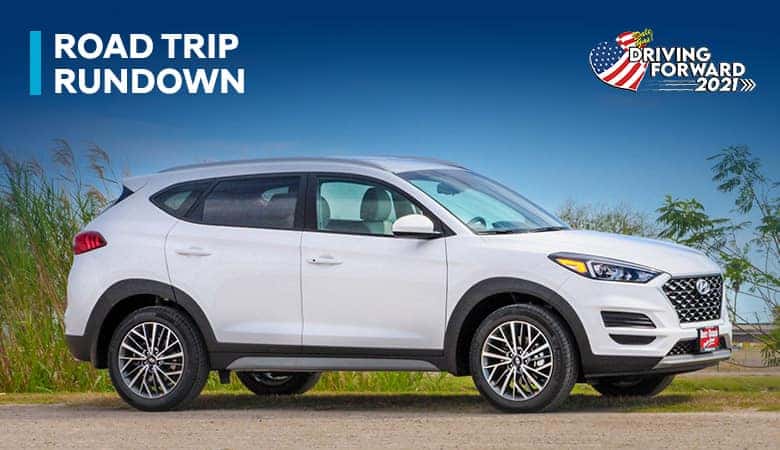 Are you thinking of packing up your SUV, truck, or sedan and hitting the open road with your family? Excellent! To help you make the most of your road trip from Mission, Texas, we put together a road trip guide. No matter how long of a drive you are undertaking, you'll find tips and suggestions for making fun memories with the whole family while staying on budget.
Get your vehicle serviced before you leave
Your vehicle needs routine maintenance roughly every 5,000 miles. If you are nearing the mark or will surpass it while on the road, get your oil changed and tires rotated before you leave. This will also give Bert Ogden service techs a chance to do a thorough multipoint inspection of your vehicle and spot any potential issues you'll need to have fixed before your trip.
If you plan to travel more than 5,000 miles roundtrip, you will need to arrange for another oil change and tire rotation during your trip.
Prioritize saving money
Cars don't have to be expensive; that's why we love to help customers find high-quality pre-owned vehicles in Mission, Texas. Vacations don't have to be expensive either, especially family road trips. Here are some tips for keeping your on the road adventure affordable:
Try camping. Skip the luxurious hotel that costs hundreds of dollars a night. Instead, pitch a tent for approximately $20 at a campground or off the beaten path. In fact, an outdoors-centered road trip is the perfect way to save money. Hiking, swimming, and exploring nature are much cheaper than going to museums, shows, amusement parks, and more.
Pack food. Bring a cooler and some bags, and load them with food and beverages. That way, you aren't stopping for fast food and gas station sweets multiple times on the trip. We'll talk about arranging for healthy eating on the go in the next section.
Avoid peak travel season. Prices for everything go up at various times of the year (usually when kids are out of school). Do your research ahead of time to determine when you can get the cheapest lodging, fuel, and food.
Pack healthy food
Road trips don't have to mean beef jerky and McDonald's. You can pack healthy, filling snacks for your trip. Here are some of our favorites:
Fruits and veggies
Protein bars
Tortilla chips
Trail mix
Sandwiches (premade or made on the go!)

We recommend cutting up any veggies you'll use on the sandwiches ahead of the trip. Be sure to use a cooler for ingredients that need to be chilled.
You will also want to pack plenty of bottled water, as well as paper plates, plastic ware, and trash bags.
Play games with the whole family
You likely have some long travel days ahead of you. It can be so easy for each family member to become absorbed in their phones or devices, but make sure you set aside time during the road trip to hang out together in the car. Do karaoke with your favorite Disney songs, try telling a story one sentence at a time, or just play one of these fun road trip games:
I Spy
License Plate Bingo
20 Questions
Would You Rather
The Alphabet Game
Keep pets safe
If you are bringing your pets along for the trip, that's great! Just make sure they have access to water and plenty of potty breaks.
Cats and small dogs should be contained to a pet carrier. Medium-size and large dogs should be kept in the back with a harness attached to a seat belt. Never let animals ride up front or hang their heads outside of windows, as flying debris can hit their faces. Dogs should never ride in the bed of a pickup truck.
If you're in need of a new car, SUV, or truck before your trip, visit Bert Ogden Mission Auto Outlet to get a closer look at our large inventory of pre-owned and certified pre-owned vehicles.
---