Safety Tech For Your New Driver | Mission, TX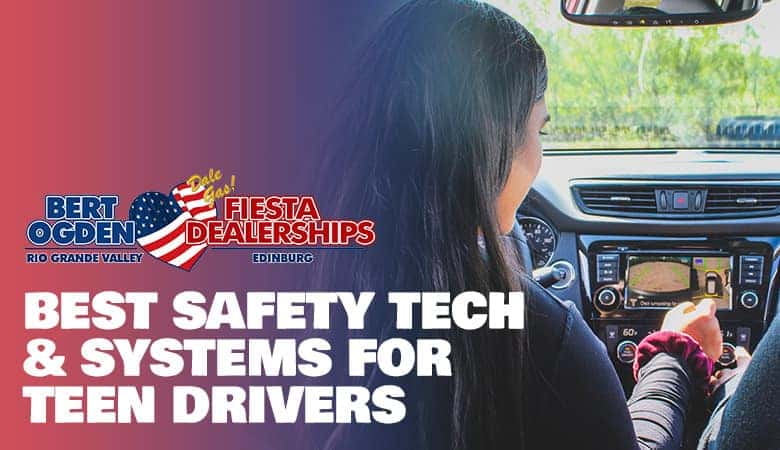 Learning to drive is a rite of passage, and soon your teen will want to be behind the wheel without you. As a parent, that can be a difficult transition period. Equipping your teen driver with a vehicle that offers superior safety technologies, especially those that target new teen drivers, can help give you the confidence you need to let your new teen driver leave the nest (as long as they are home by curfew).
For most families, buying a brand-new car for a teenager is not practical. That is why Bert Ogden Mission Auto Outlet in Mission, Texas, offers a wide variety of used vehicles at affordable price points, still equipped with the safety technologies parents crave for their teen drivers.
Most notable are vehicles from the General Motors brands, including Chevrolet, Buick, and GMC, which boast Teen Driver technology.
All about Teen Driver tech
The Teen Driver technology from GM is the industry standard for safety among teenagers behind the wheel, and you will find it on plenty of used vehicles in our inventory, including the Chevrolet Malibu, Buick Encore, Chevrolet Equinox, GMC Acadia, Chevrolet Trax, and GMC Terrain.
Teen Driver technology allows you to monitor your teen's driving performance, even when you are not in the vehicle with them. You can set volume limits (or mute audio altogether), force teens to buckle up (using Buckle to Drive), and even control speed limits. In addition, you can access a report card that tells them how their teens are driving so parents can act as a coach.
Other comparable safety technologies
GM does not corner the market on teen safety, though it is by far the most popular. You can also look at used Ford models, for example, that have the MyKey system. This system is similar to Teen Driver, with features like Belt-Minder; you will find it on various Ford models, including the Fiesta. Similarly, Hyundai and Kia offer their own parental settings — Blue Link and UVO eServices, respectively — in models including the Sonata and Stinger.
The importance of teen safety tech
Getting a vehicle with technologies targeted at safe driving for teens is important. Why? Because teens are still learning to be good drivers, and these technologies can help protect them. Tech and features, which remind teens or inexperienced drivers to buckle their seatbelts, a habit that many forgo, keep the music at a moderate level, and resist the urge to disobey the speed limit, can go a long way in helping to safeguard their journeys and teach them to practice good driving habits. Targeted teen driving technologies can help reduce the severity of collisions — or prevent them altogether, too.
More safety technologies to consider
In addition to teen safety features, look for a used vehicle that has all-around good safety ratings and scores. Specifically, pay attention to reviews and ratings from the National Highway Traffic Safety Administration and Insurance Institute for Highway Safety for any vehicle you are considering for your teen driver. Technologies such as blind spot monitoring, forward automatic braking, a rearview camera, intelligent cruise control, rear cross traffic alert, and lane changing assist can help your teen avoid or minimize a collision.
If you have younger children
As a parent of a younger child, getting a vehicle now with Teen Driver tech may not be important. Instead, focus on a vehicle that makes it easy to securely fasten a car seat. If the used vehicle has the LATCH (Lower Anchors and Tethers for Children) system, all the better. More recent model years may also have rear seat reminders.
---
When shopping for a vehicle for your teen driver, be sure to check out the large inventory of safety-focused vehicles at Bert Ogden Mission Auto Outlet in Mission, Texas.