Which Used Chevy Truck Is Right For You | Mission, TX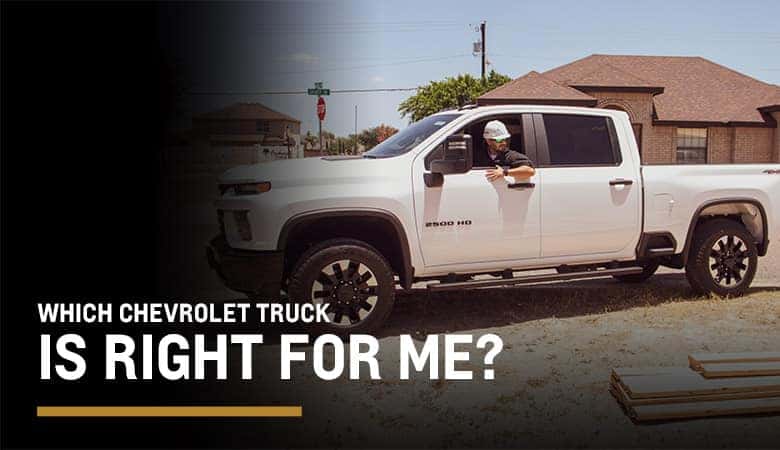 Trucks are great for a variety of use cases: small home renovation projects, a weekend on the Gulf with your boat, a longer road trip to some of the country's greatest parks, or for your own small business needs, whether you're a farmer, a rancher, a contractor, or a construction worker. All that versatility comes at a high price, though. That's why we recommend buying a used truck from Bert Ogden Mission Auto Outlet in Mission, Texas.
But which truck is right for you? By and large, Chevrolet manufactures some of the best pickups on the market. The only tough decision you'll need to make is which used Chevy truck you should get. And that, of course, depends entirely on your budget and your needs.
We highly recommend test-driving all Chevy trucks before committing to a specific model, but you can get a feel for which might be right for you using the guide below:
Chevrolet Colorado
The Chevrolet Colorado is the smallest and most affordable pickup in the brand's lineup. If you are on a tight budget — for a down payment, for a monthly payment, for insurance, and for fuel costs — the Chevrolet Colorado may make the most sense for you. Do not let the lower cost and smaller size fool you, though. The Colorado has been highly popular since its return nearly a decade ago, thanks to its powerful yet efficient diesel engine option and off-road variants that make the Colorado as fun to drive, as it is versatile in its uses. The Colorado is great for handymen and -women doing home projects and for families with small boats or trailers.
Chevrolet Silverado 1500
The Chevrolet Silverado 1500 is the brand's most popular and well-known pickup. And with more Silverado models still on the road today compared to competitors from Ford, Nissan, Honda, RAM, and others, the Silverado is officially the most dependable and longest-lasting pickup on the market, based on the last three decades of vehicle registration data. Over the last several years, Chevy has upped the ante with the Silverado, with recent variants reaching up to 420 horsepower and 13,300 pounds of towing when properly equipped. That means the Silverado is great for tough jobs and long family road trips, whether just to Big Bend or all the way up to the Olympics or Acadia. Recent innovations such as the Durabed make the Silverado truck bed more durable and spacious than the beds of any competitors while new and innovative trailering technologies (like the in-vehicle Trailering System and up to 15 camera views) have improved towing visibility and ease.
Chevrolet Silverado 2500HD or 3500HD
If it's raw towing power that you are after and budget is not a concern, go with a heavy-duty pickup like a used Chevrolet Silverado 2500HD or the Chevrolet Silverado 3500HD. These trucks are for families with massive RVs to tow or for serious workers. If your job has you hauling heavy loads or making abundant use of the bed, we highly suggest an HD model. Though the newest Silverado 1500 now offers a diesel engine, you can only get a Silverado with a diesel used if you step into the 2500HD or 3500HD territory (gas engines are also available). At its most powerful, the Silverado 3500HD can tow up to 36,000 pounds when properly equipped and crank out 910 lb-ft of torque. That's massive amounts of power for any task you need to accomplish. In addition, the Chevy Silverado 2500HD and 3500HD models boast the same trailering technologies and Durabed pickup bed as the core Silverado 1500 model.  But don't let their power fool you; you can still depend on leading safety and infotainment technologies in these massive work trucks.
---
Get a closer look at these formidable, well-equipped, and fun-to-drive Chevy trucks at Bert Ogden Mission Auto Outlet in Mission, Texas.