Why Buy a Used Ford | Mission, TX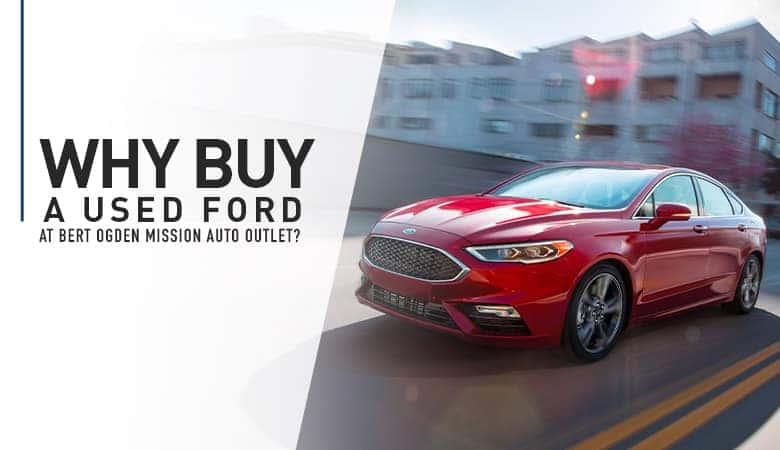 Ford builds some of the industry's most dependable, longest-lasting vehicles. It only makes sense then that Ford should be at the top of your list when purchasing a used car, truck, or SUV. Below are key reasons to consider a used Ford from Bert Ogden Mission Auto Outlet for your next vehicle purchase:
You'll spend less
When you purchase a new Ford, the vehicle immediately loses a significant chunk of value when you drive it off the lot, due to depreciation. You don't undergo that major depreciation when you buy a used Ford, however. On top of that, used Ford models are more affordable because they've had previous owners. You can save significantly on your down payment and monthly payments, as well as insurance premiums, as used vehicles are cheaper to insure.
Since used vehicles are more affordably priced, you may be able to afford a Ford that would otherwise be out of your price range, like a Mustang, F-150, or Expedition — or a higher trim level of something more affordable.
Great Technology
Technology is miles ahead of what it was two or three decades ago. Infotainment systems and advanced driver-assist safety technologies have been the norm for a while now, so even if you go back several model years when purchasing a used Ford, you can still expect a highly advanced vehicle.
Data to support your decision
When you buy a new vehicle, the jury is still out on how it will hold up. When you are shopping used, however, you can pore over hundreds upon hundreds of reviews to determine if auto experts have deemed that specific Ford from that specific model year a high-quality vehicle with few problems. Armed with that data and a vehicle history report, buying a used Ford model just makes more sense.
---
Visit Bert Ogden Mission Auto Outlet to check out our expansive inventory of high-quality pre-owned Ford models.