Why Buy A Used Honda | Mission, TX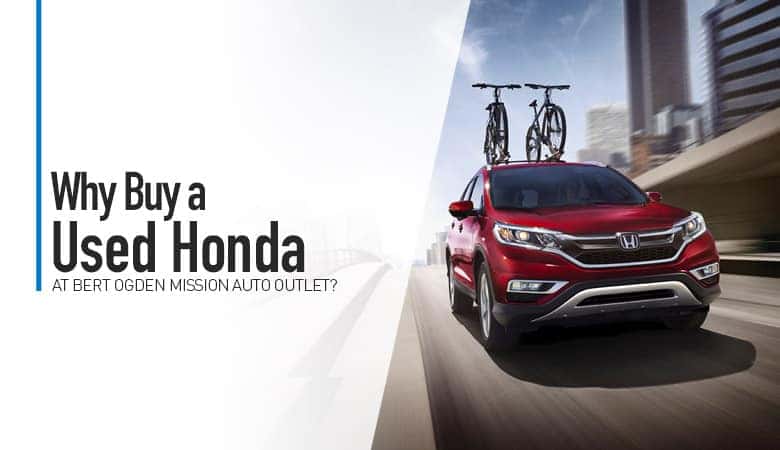 Honda has become synonymous with reliability, known nationwide as an automaker of highly dependable, long-lasting cars, trucks, vans, and SUVs. That's why so many drivers continue to choose not only new Honda models, but used Honda vehicles as well, for their daily drivers. Here are just a few reasons to consider buying a used Honda at Bert Ogden Mission Auto Outlet:
The Savings
The main reason anyone buys a used vehicle over a new vehicle is the savings, plain and simple. Because a used vehicle has had at least one previous owner and has already undergone the major depreciation hit, used cars are priced much more affordably. That means a lower down payment and a lower monthly payment — or perhaps even the ability to pay it all off in one go and avoid any monthly payments. Used cars are also cheaper to insure, so if you want to reduce your insurance premiums, consider a used Honda.
The Reliability
Honda continues to win awards for the initial and long-term quality of its vehicles, ranging from the Accord and Civic to the Odyssey and the Pilot. Honda vehicles are known to last decades, which makes them a smart choice when buying used.
The Selection
Over the last several decades, many great Honda vehicles have come and gone. If you want to get your hands on a discontinued Honda model like the Element or the Crosstour, going used is your only method. You can also shop used to get features in a model that have now been discontinued.
The Technology
Honda has been at the forefront of vehicle innovation, leading the charge with hybrid technology, driver-assist safety features, and more. That means, even in older used vehicles, you can expect to find great technologies aimed at safety, efficiency, performance, convenience, comfort, and connectivity.
---
We have a great selection of used Honda vehicles on our lot. Stop by Bert Ogden Mission Auto Outlet for a test drive.