Trucks vs. SUVs | Mission, TX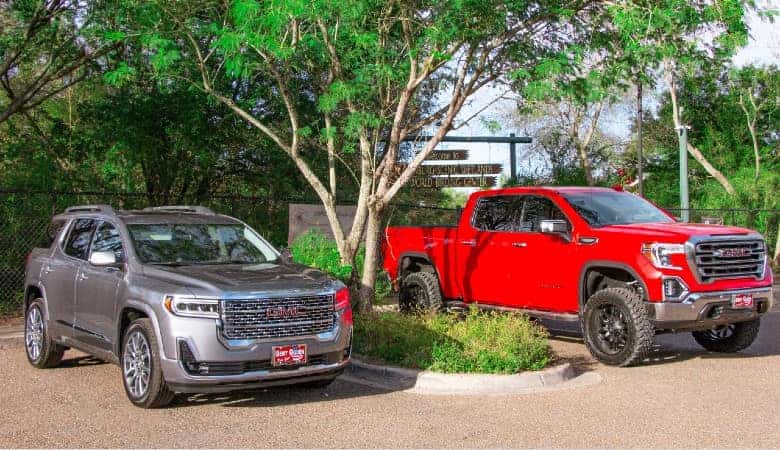 Are you preparing to purchase a used vehicle to support your family, your business, or your adventurous lifestyle — or perhaps all three? No matter your needs, a truck or an SUV can likely serve you well. But which one is better for your lifestyle? Below, we'll weigh out the pros of buying a truck like the GMC Sierra or Chevrolet Silverado vs. buying an SUV like the GMC Acadia, Chevrolet Equinox, or Nissan Rogue at Bert Ogden Mission Auto Outlet right here in Mission, Texas.
Midsize Truck Or Midsize SUV
Both midsize trucks and midsize SUVs have their unique value propositions. You will need to consider what you want out of your used vehicle before making a decision.
Used midsize trucks are typically better when it comes to towing and hauling, especially if you choose one with the more powerful engine or an available diesel engine. Diesel engine technology can also be highly efficient, so you may find yourself saving money on fuel costs if you select the right midsize truck. Finally, midsize trucks are great if you regularly travel with tools or outdoor equipment like kayaks and bikes.
Used midsize SUVs have the upper hand when it comes to safety tech, a spacious interior, and comfortable seating. Most SUVs have similar capabilities to trucks but offer more of the family-friendly conveniences — comfy seating, better infotainment and entertainment systems, etc.
Large Truck Or Large SUV
The story is similar when it comes to larger trucks vs larger SUVs. Again, larger trucks can offer more towing power, especially when you move into the realm of heavy-duty trucks. Larger SUVs offer more interior space for passengers. Fuel economy completely depends on the engine; both vehicle types can be highly efficient, and both types can miss the mark on fuel economy. Safety technology tends to be solid no matter which option you go with.
---
Check out the selection of high-quality used trucks and SUVs at Bert Ogden Mission Auto Outlet in Mission, Texas, to discover what vehicle type is right for you.